Purpose in Prayer
by E. M. Bounds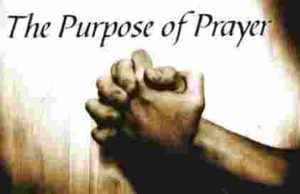 This is a a 13 chapter work on Prayer. This is EM Bounds work Purpose in Prayer in which he explains what is God's purpose in creating and using in an important way the activity of prayer.
The prayer of faith is the only power in the universe that can change the purposes of God and bring victory to the Christian life. E. M. Bounds encourages every believer to open a "vista of infinite resource and possibility" by living a life of purposeful prayer. This book is your passport to answered prayer and a changed life. Amazon.com
Table of Contents
Note that these chapters do not have titles. They are just general works on Prayer.
Chapter 1
Chapter 2
Chapter 3
Chapter 4
Chapter 5
Chapter 6
Chapter 7
Chapter 8
Chapter 9
Chapter 10
Chapter 11
Chapter 12
Chapter 13
 Purpose in Prayer is another treasure from Edward Bounds on prayer. Bounds, an admired spiritual guide, describes the purpose behindprayer and not simply the purpose of prayer. He focuses on an individual's purpose in prayer; for one can understand the purpose of prayer, but not see the purpose in one's own prayers. Thus, Bounds attempts to encourage believers to not simply see the purpose of prayer, but to see that purpose in their own personal, private prayers. Throughout, Bounds frequently quotes other Christian thinkers, adding support and insight into his points about prayer. Composed of twelve short chapters, Purpose in Prayer is a rewarding book on prayer.

Tim Perrine
CCEL Staff Writer CCEL.ORG