Pilgrim's Progress in Words of One Syllable
Pilgrim's Progress. This is a modified version of Bunyan's classic.
AUTHOR'S PREFACE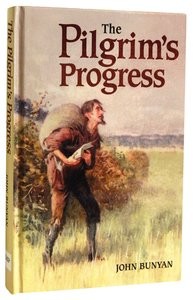 In offering to the public another volume on my plan of reducing popular tales into words of One Syllable exclusively, I wish it to be clearly understood that it is intended for Adult Beginners, no less than for Children. There is a large class of persons who do not begin to acquire the art of reading till somewhat late in life, and it is for such that I think a book of this Character is peculiarly applicable.
It may be objected that my system involves the use of words which, though short, are difficult to understand and might be made more intelligible in polysyllabic language. But I have endeavored as far as possible to avoid hard and technical expressions, and I cannot but think that the mere fact of the brevity of the words must be a great attraction to beginners of all ages. By this method the labor of dividing and accentuating words is avoided: a difficulty which pupils who have only attained to the knowledge of monosyllables cannot conquer by independent effort.
I take this opportunity of acknowledging the great favor with which my previous books of the same character have been received, and I am glad to hear that they have been found useful as Prizes in Schools.
I have thought it necessary to retain all the names of Persons and Places in their original form, but this is the only exception to my general rule.